Our Testimonials
My wife and I were preparing to climb Mount Rainier and were looking for a local gym to help us get in great shape. We initially chose Titanz because they had by far the best cardio and weight equipment selection in the area. During our training we also worked extensively with certified personal trainer and owner Daniel Stuckart. Daniel consistently went above and beyond to help us accomplish our goal. Not only did he push us to work harder, he also provided nutritional counseling, coaching on proper form and technique, and positive reinforcement. We couldn't have done it without him and the rest of the Titanz team!*
– Christopher Speaks
After 2 months of driving by Titanz I decided to muster up my courage and join. I was out of shape and very discouraged with my inability to lose weight. Shortly after joining, I began personal training with Kevin Reeder. Kevin helped me put together a program of weight lifting, cardio and designed a meal plan for me. Six months* in and 45 pounds lighter I am happy to report I am sticking with it and very happy at Titanz! The gym has become like a family to me. Owner Daniel, the trainers, and the staff are all very supportive and make working out something I want to do on a regular basis. Thank you Titanz!*
– Kathy Bolls
Just a little background information on the competitor I was before coming under the guidance and training of Hanna Hallman. I was battling one of the worst eating disorders of my life, my self esteem was in the gutter, and I had practically given up my dream of competing at a national level at this point.
Hanna reached out to me and offered to prep me for my show after taking her on as a sponsored athlete for my suit company. I knew immediately how big of a deal this was because Hanna is not only someone I have followed for years looked up to for that same duration of time. Hanna saw something in me when I was completely out of shape and had not a single bit of motivation left within me. Despite all this Hanna instructed me to trust her and to trust the process and she would have me in the best shape of my entire life without having to kill myself, mentally or physically.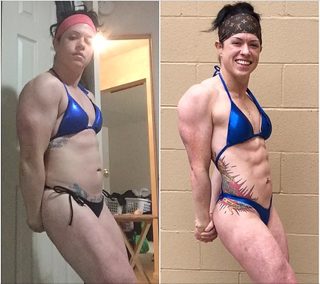 20 weeks ago I sent my initial photos to Hanna fearing a disgusted response or for her to tell me she was unable to get me where I needed to be but boy was I wrong. She immediately reassured me everything was going to be ok and that if I followed her guidelines and protocol to a T I would be the best I have ever been. I am now sitting at 6 weeks out from my first show in 3 years in the best shape of my life with time to go after having bailed on 12 shows in the last 2 years because of fear of not being good enough. Hanna has held me to higher standards then I have ever been, she expects more of me than anyone else has, and she believes in me enough to put the time and effect above and beyond that of any other coach I have ever had.
Hanna is not only an incredible coach but she is a true role model and to say she leads by example is an absolute understatement. She wears her heart on sleeve and not only cares about you as a client but your genuine well being as a person and the way you carry yourself outside of the gym. She has taught me more about myself in the last few weeks that I have been working years to learn and she will truly never understand how much she has not only inspired but truly changed my life from rock bottom to where I am today.
If I could tell you one thing about Hanna Hallman it is that she truly loves what she does, her passion thrives in this industry and all that it en-tells and she is one of the most honest, genuine, greatest friend and coach I have ever had the honor of meeting. Using Hanna as your coach I promise you will be the best more refreshing, and motivating decisions you have ever made.*
– Meredith Mitchell
*Disclaimer: Individual Results May Vary*